Your cart is currently empty
SPOT Gen4 Satellite GPS Messenger - $50.00 OFF SUMMER PROPOTION
Price:
0.00
$189.99
$139.99
SPOT Summer Promotion - $50.00 OFF
Offer Valid from May 19th,2021 to September 06,2021
STAY CONNECTED AND GET RESCUED WITH THE PUSH OF A BUTTON, EVEN WHEN YOU'RE OUTSIDE OF CELLULAR RANGE
From coast to coast to coast Canadians have counted on the SPOT Satellite Messengers for peace of mind and S.O.S. connectivity when beyond reliable cellular service. SPOT Gen4 is the latest addition to the award-winning SPOT family of products, providing affordable, off-the-grid messaging and tracking for hundreds of thousands of outdoor enthusiasts and lone workers.

SPOT Gen4 combines proven S.O.S. emergency notification technology with improved product specifications for water resistance, more tracking features through the SPOT Mapping enhanced mapping interface, and a new carabiner with strap to complete the modern industrial design.

SPOT Gen4 has an affordable MSRP of $189.99 well suited for the individual purchaser and for corporate budgets to enhance the safety of remote workers. A Basic Service Plan is required. With the SPOT Gen4's Basic Service Plan, you can send unlimited Check In, Custom, Help/SPOT S.O.V., Tracking and S.O.S. messages, all at the push of a button.

SPOT Gen 4 for Business
Lone workers can check-in and reach out for assistance if the unexpected should occur. Integrate with SPOT Mapping for a complete remote personnel management portal.
SPOT Gen4 Device Features


The SPOT Gen4 is part of an award-winning product portfolio that provides an affordable and vital line of communication with friends, family, colleagues and the GEOS International Emergency Response Coordination Center (IERCC) using GPS location and satellite connectivity powered by Globalstar.
Enhanced Design – SPOT Gen4 has a sleek new look with improved grip and security design features that offer ease of use. It's rugged, portable and includes a new multi-use carabiner and strap.
Upgraded IP68 Rating – Offers increased water resistance, up to 30 minutes at two meters in water.
Motion Activated Tracking – SPOT Gen4 sends tracks at a chosen rate for as long as the device is turned on and moving, conserving battery life. Alerts can be set to auto send notifications to others when movement is detected or upon entry and exit of specific geographic areas in SPOT Mapping.
Battery Life – SPOT Gen4 offers the longest battery life in the product category far surpassing performance of alternative battery powered GPS messengers.
SPOT Mapping – Live and historical map views to view or share your SPOT locations for a minimum of three years. Optional upgrades available to meet user-defined mapping needs.
Features
S.O.S. - In an emergency, send an S.O.S. with your GPS location to GEOS, who facilitates search and rescue.
TRACK - Automatically send and save your location and allow contacts to track your progress using cloud-based mapping.
CHECK IN - Let contacts know where you are and that you're okay with a pre-programmed message.
HELP/SPOT S.O.V. - Request help from your friends and family at your GPS Location or ask for help from professional assistance organizations.
CUSTOM MESSAGE - Let contacts know where you are by sending a pre-programmed message with your GPS location
Specifications
- HEIGHT: 8.83 cm (3.48")
- WIDTH: 6.76 cm (2.66")
- THICKNESS: 2.36 cm (0.93")
- WEIGHT: 142 g (5 oz) with Lithium batteries
- OPERATING TEMP: -30 C to 60 C (-22 F to 140 F)
- OPERATING ALTITUDE: 100 m to +6,500 m (-328 ft to +21,320 ft)
- HUMIDITY RATED: MIL-STD 810F,Temperature cycling from 20°C to 60°C while maintaining 95% RH.
- VIBRATION RATED: Per SAE J1455
- DUST AND WATER RESISTANT: IP68
- BATTERY TYPE
• 4 AAA Energizer® Ultimate Lithium 8x batteries (L92)
• 4 AAA Energizer® NiMH rechargeable batteries (NH12)
LONG BATTERY LIFE
• Send 1,250 Check In and Custom Messages on a single set of Lithium batteries
DESIGN FEATURES
• Durable carabiner for easy strap and go use
• Sleek and rugged
• Distinct, easy to press buttons make using SPOT Gen4 a breeze
SPOT SERVICES BASIC SERVICE PLAN Required for all SPOT devices. With the SPOT Gen4's Basic Service Plan, you can send unlimited Check In, Custom, Help/SPOT S.O.V., Tracking and S.O.S. messages, all at the push of a button. Enjoy custom tracking intervals of 5, 10, 30, and 60 minutes and set up Movement Alerts. With Continuous and Motion-Activated Tracking, SPOT Gen4 will continuously track your location while in motion and only stops sending track messages when you stop moving.
Please Note: We do not sell the service plans.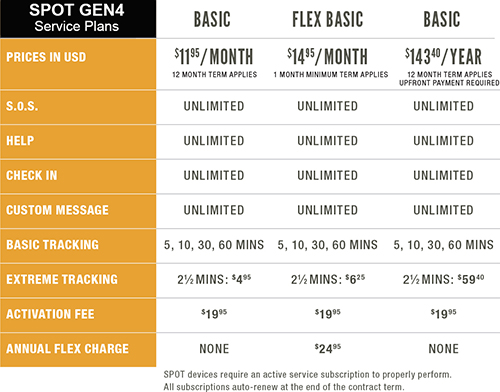 Currently there are no reviews for this product. Share your opinion with others, be the first to write a review.